Helen Bodycomb Mosaics
Dr Helen Bodycomb is well known as one of Australia's few contemporary artists working primarily in mosaic. She is widely professionally active; exhibiting, fulfilling commissions, guest teaching and presenting her work nationally and internationally.
Helen has been pivotal to re-defining mosaic as an art form in Australia, having initially trained as painter (Victoria College, 1988-1990 and Monash University, 1993-94), also working under Maestro Giulio Candussio in Spilimbergo, Italy in 2001.
She has practiced full-time as a mosaic artist working predominantly in stone and glass for more than 30 years. Helen also applies mosaic methodologies to more experimental artworks exploring ephemera and biodegradability, and conceptual modes she calls 'thinking in mosaic'.
In August 2019 Helen completed her practice-led PhD in Visual Art with La Trobe University, Australia, her research project investigating Mosaic: classical principles and the act of making in contemporary works. This research sought to clarify and defend traditional mosaic conventions and assert how thinking in mosaic can augment wider contemporary art practice. Helen's practice spans three predominant streams: experimental fine art, community art/commissions and education. Her education stream includes leading technique-based workshops in her Castlemaine studio, mentoring other artists via zoom/email, and leading deluxe Art Retreats and Mosaic Study Tours in Italy.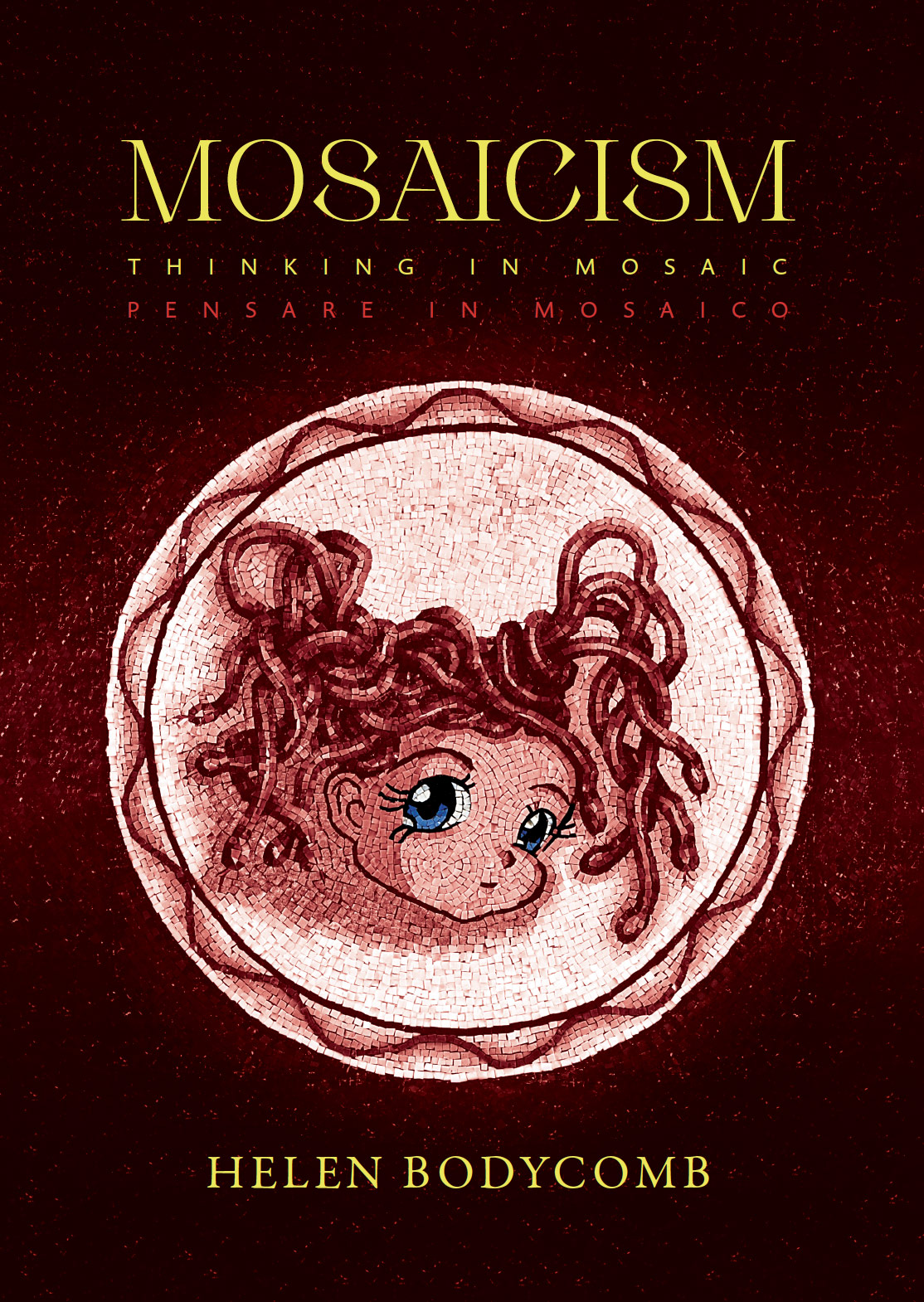 New book – out July 2023
In Mosaicism – Thinking in Mosaic, Bodycomb draws on her experience as a visual artist and her ground-breaking research, to explain the human urge to 'make special'. This intuitive act of assembling small, like parts, is one where the act of making is as important as the artefact made.
Reviews
"Mosaicism: Thinking in Mosaic is a lovely and lyrical meditation on both the dynamic development of a classical artform and the fundamental human desire to create and make a mark."
CATE KENNEDY, author of The World Beneath, Dark Roots and Sing and Don't Cry (Australia)
"What an amazing book! Helen Bodycomb breaks new ground with a book on the philosophy of mosaic making. If you don't know what mosaic is, you must read this book. And if you are passionate about mosaics, you must devour it!"
RENÉE ANTOINE MALAVAL, author and publisher of Mosaïque: 80 artistes contemporains and Mosaique Magazine (France)
Download flyer about the book in English.
Download flyer about the book in Italian.