2016 AIMC CONGRESS
Mosaic in the Contemporary World: 18-22 May 2016
SPILIMBERGO, ITALY
When I first heard that the 2016 AIMC* Congress was going to be hosted by the Spilimbergo School (La Scuola di Mosaicisti del Friuli) in northern Italy, I knew that by hook or by crook I had to be there.
*AIMC – L'Associazione Internazionale Mosaicisti Contemporanei (The International Association of Contemporary Mosaicists)
The Spilimbergo School was founded in 1922 and has become an enduring world leader in mosaic education.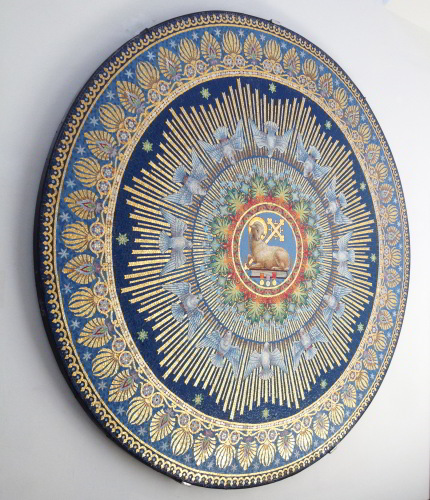 I am fortunate to have a long-standing personal relationship with the Spilimbergo School, which began in 2001.  I had been been invited by the Italian tile firm Bisazza to be an artist in residence there. I arrived with my husband, our four month-old baby and scant Italian language skills, to spend four life-changing months working each day on my own mosaics under the watchful eye of then Artistic Director, Maestro Giulio Candussio. Later, in 2006 I co-curated (with David Jack) Mosaic Now: works from Italy and Australia. This exhibition of about 60 mosaics from the Spilimbergo School and by some of Australia's leading mosaicists was organised by Bundoora Homestead Arts Centre in Melbourne and toured for more than a year; from Bundoora Homestead Arts Centre to Wangaratta Regional Gallery, The National Wool Museum in Geelong and Mosman Gallery in Sydney. However Mosaic Now was hardly the first mosaic event of international significance for Australia. In 2004, the AIMC Congress was held in Melbourne, thanks to the herculean effort of esteemed mosaic colleague Anna Minardo.
The AIMC, the peak international industry body for contemporary mosaic, was founded in Ravenna in 1980 by an important group led by eminent mosaic scholars Isotta Fiorentini Roncuzzi and Peter Fischer. For the fifteenth, 2016 AIMC Congress in Spilimbergo, there were numerous core and associated events. I did my best to take part in them all, kicking off with a 5-day workshop at the School with Maestri Laura Carraro and Lisa Battistuta.
We worked on several colour exercises, one of them being a contemporary mosaic interpretation of the eye of the gypsy girl from Zeugma in Turkey. A highlight for me was an extensive colour theory (colour construction) lecture by Maestro Stefano Jus.
Jus' somewhat radical RGB colour theory ideas were great to explore in studio practice, together with minute inclusions of complimentary colours to enhance luminosity. The importance of colour functioning equally well as tone, in combination with an exploration of traditional and contemporary laying styles, made this process a rich and enjoyable 2-day exercise. Technicians at the Spilimbergo School have also been doing some funky artificial smalti experiments using resin and epoxy glues to make psychedelic coloured smalti, and this was a great opportunity to use some of them.
The Congress officially opened on 18 May with the launch of the exhibition of mosaics by 68 artists at the magnificent Palazzo Tadea in Spilimbergo. Consistent with other exceptionally high standards across the event, the Spilimbergo School published a comprehensive 263-page high quality catalogue book to accompany the exhibition.
Three days of Congress presentations followed the exhibition opening, including such luminaries as Manfred Hoehn (Germany), Sonia King (USA), Elaine Goodwin (UK) and our own Pamela Irving, who did a sterling job of introducing her Yolo man works. I was one of 18 presenters on day two, framing my current work within the concept of 'Making mosaics in the Anthropocene Era', which seemed to go down suitably well with the Congress punters. Presentation highlights for me included those by Giovanni Travisanutto from Spilimbergo – possibly the most gracious mosaicist one might meet; Alexander Vasiliev from Russia – Professor of Mural Painting from the St Petersburg State Academy of Art and Design, Eman Elbana – Professor of Murals and Environmental Design at Badr University in Cairo, who calmly navigated her students on an inspirational mosaic journey through the chaos of Egypt's Arab spring.
Typically, the Congress presentations included both high points and flat spots; as happens within a climate of democratic inclusiveness. After 3 days of thrashing out 'Mosaic in the Contemporary World', the Congress took to the streets and morphed into Art & Mosaico, an extraordinary fiesta of all things mosaic, which took over the whole town of Spilimbergo for the ensuing weekend.
From the early evening of Friday 20 May until midnight of Sunday 22 May, the entire town of Spilimbergo was 'open' with public celebrations of the artform of mosaic; public lectures were held exploring themes such as new and restored Vatican mosaics, new mosaic-related books were launched, restaurants served mosaic-themed dishes, and hundreds of major mosaic artworks by the region's leading mosaic artists were installed through the streets, churches, shops, private and public windows across the historic centre of the town. Even food retailers styled their windows to reflect the theme of mosaic in their food, evidence that mosaic runs through the veins and the stomachs in Spilimbergo.
Over the following four days, as Congress numbers dwindled, some of the hardy and history- starved (like the Aussies) took part in a suite of guided tours to mosaic sites of significance, commencing with the magnificent Roman sites of Aquilea and Grado.
Aquilea, located only 40 km south of Spilimbergo has an auspicious history. It was established as a colony on the northern reaches of the Venetian lagoon in 181 BC and became an important centre of trade, also a Patriarchate of the early Christian church. It is believed that Constantine the Great and his family were regular worshippers at the Basilica here. The Aquilea mosaics exist as a series of rich layers; from early cocciopesto works through multiple subsequent layers of decorative and allegorical mosaics laid directly over the top of each other; archaeological excavation here is complex and necessarily destructive. In the fourth and fifth centuries the most important buildings, including the Basilica, were embellished with vast polychromatic carpets of mosaic.
As the AIMC gradually wound down and the double whammy of Art & Mosaico ran its course, the final few days provided guided tours to mosaic sites across the province of Friuli Venezia Giulia and to Venice.
I was delighted to have the opportunity to attend the 2016 AIMC Congress, (assisted with funding from La Trobe University) and I so enjoyed establishing new collegial friendships and warming up old ones. It was wonderful to be in the company of two other Aussies; veteran AIMC Congress attendee Pamela Irving and relative newcomer Alice Styan from Newcastle.