Mosaic Workshops
I really delight in passing on what I know about art and making mosaics to motivated adults hungry for information about this unique, historic medium. After 8 years of full time Fine Art University studies and nearly 30 years of full-time professional practice I am well qualified to teach what I know.
My studio workshops are designed to be an immersive experience; where technical and historic information, the savouring of a carefully assembled library and fine music are complemented by lovingly made gourmet tucker and local wines. I work hard to ensure that the whole weekend provides high quality learning with an utterly enjoyable social experience.
Download the 2021 Semester 1 Mosaic Workshop PDF here

PICASSIETTE – working with ceramic shards
April 10

-

April 12

$520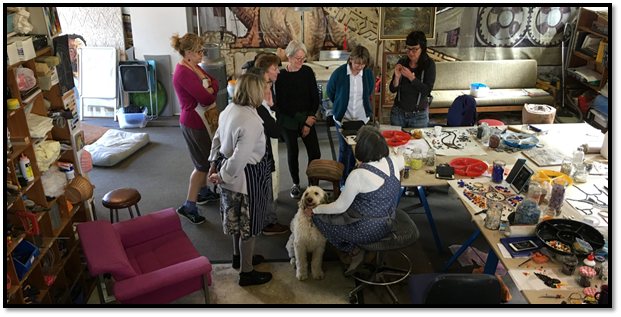 Course fee includes substrates and glue (does not include ceramic shards so please BYO). Includes morning and afternoon teas, lunch Saturday and Sunday; (self-catering and independent finishing of work on Monday).
Helen will lead this course building on picassiette traditions ranging from the Catalan tradition of trencadis, to Raymond Isidore's work (see https://www.artsy.net/article/artsy-editorial-cemetery-caretaker-covered-cottage-mind-bending-mosaics) and working with central goldfields found blue and white-ware. Participants are encouraged to bring ceramic shards, either lost & found or custom created.
Book now